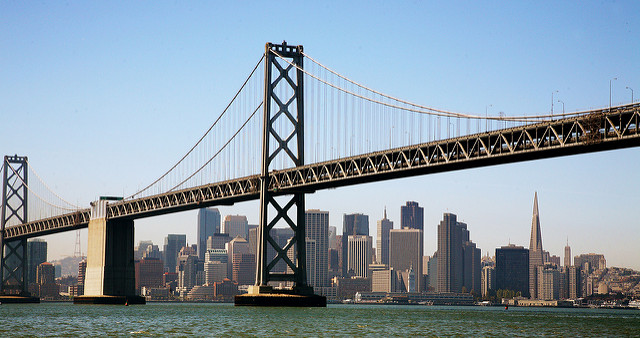 BAY AREA JOB WATCH:
ECONOMIC OPTIMISM WEAKENING?
This month's Bay Area Job Watch finds that while the pace of hiring has slowed slightly from the mid-summer highs of 2015,the region is still adding jobs at a robust 3.4 percent year-over-year.  Analysis by Institute Trustee Steve Levy shows that Bay Area growth continues to outpace the state and nation by a significant margin.
The biennial Bay Area Council Poll, however, registered an 18 point drop in the share of residents who think the regional economy will perform better going forward, and nationally the Conference Board reported a nearly two point drop in confidence in April.  Why is the optimism of job growth and GDP projections not completely shared by businesses and consumers?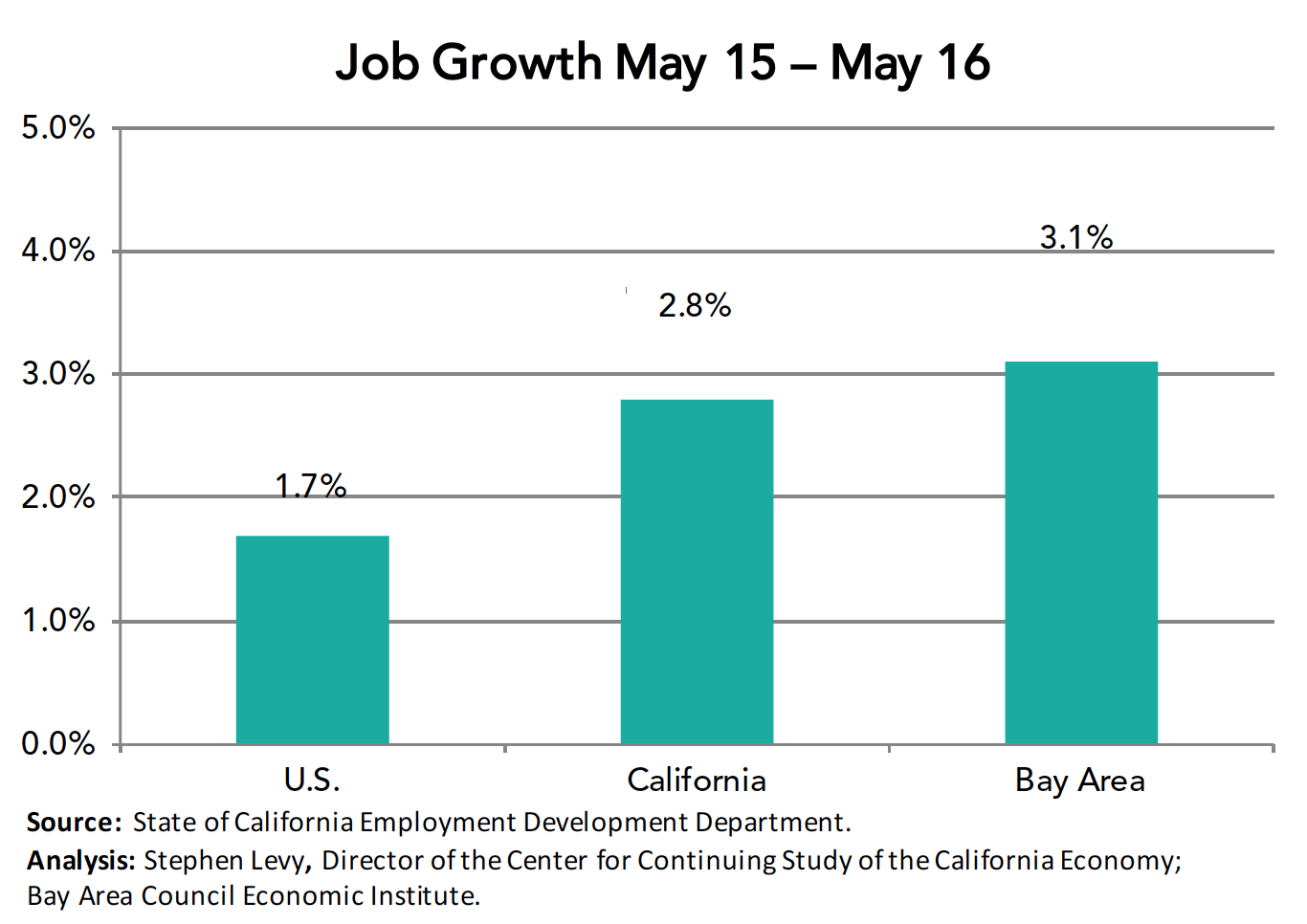 One answer is that economic projections almost uniformly fail to predict the onset of recessions which tend to happen suddenly.  Another possibility is that the public is unduly pessimistic.  There isn't as obvious a cause of the next recession as there was with inflated home values in 2008 or inflated corporate valuations in 2000.  And, ironically, regional confidence is down just as the recovery is finally delivering significant gains in median wages.
But consumer confidence matters, and housing costs are rising much faster than regional wages.  Whether or not we are on the cusp of a major recession, we have generational challenges to address in the area of housing, infrastructure and human capital investments that make good sense regardless of where we are in the economic cycle.
HELP SHAPE THE FUTURE OF THE INSTITUTE
What is the most valuable product of the Economic Institute?

— Economic Institute (@BayAreaEconomy) May 3, 2016
The Economic Institute is currently engaging in a strategic planning process to refine our operating model to best support our mission of provide solutions to the region's most pressing economic and policy challenges.  To vote in a twitter poll that will be one data point to support this process, please click here.  And follow us on Twitter!
REPORT AND RELEASE EVENT HIGHLIGHT TRANSFORMATION IN MANUFACTURING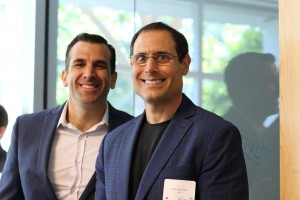 A new report released this week by the Bay Area Council Economic Institute examines California's growing manufacturing sector, highlights its many advantages and makes a series of recommendations for strengthening it and ensuring manufacturers have the high-skilled workers they need. The report – Reinventing Manufacturing: How the Transformation of Manufacturing is Creating New Opportunity for California  – finds that after years of steady declines in manufacturing jobs, employment in the sector recently has been growing. From 2010 to 2014, manufacturing employment overall grew by 3.1 percent, with gains in 14 of 18 sectors. Along with job gains came even larger increases in wages among manufacturing jobs in California.
The report was unveiled on Wednesday (April 5) at a Silicon Valley Manufacturing Forum hosted by the Jabil Blue Sky Center in partnership with the City of San Jose and the Silicon Valley Manufacturing Roundtable.  While welcoming guests, Mayor Sam Liccardo emphasized how 2015 was one of San Jose's best years for economic development and it had much to do with growth in manufacturing.
In a follow-up Q&A in the East Bay Times, Institute Senior Director Sean Randolph further elaborated on the implications for the Bay Area.
UPCOMING EVENTS AND REPORT RELEASES
Connectivity for the New World Order
May 4, 2016
6:00pm – 7:30pm
World Affairs Council
2nd Floor Auditorium
312 Sutter Street
San Francisco, CA  94108
Read Dr. Khanna's guest post here.
State of Nordic Tech in the Bay
May 19, 2016
5:30pm – 8:30pm
Bay Area Council
Conference Center
353 Sacramento Street, 10th Floor
San Francisco, CA  94111
Mainstreaming Medi-Cal (Report Release)
June 3, 2016
12:00pm – 1:30pm
Location TBD
UPCOMING BOARD MEETING
BACEI Board Meeting
June 8, 2016
11:00am – 2:00pm
Foothill College
BACEI Board of Trustees Only
BACEI IN THE NEWS
California Leaders: Gov. Rick Scott's trip to the state not likely to produce high-paying jobs
(Naples Daily News)
Q & A: Sean Randolph keeps tabs on Bay Area economy
(East Bay Times)
Modernization: Electrifying the Bay Area's Silicon Valley Rail Corridor
(Mass Transit)
SPUR Meeting Pushes Second Transbay Tube
(StreetsBlog SF)
With China faltering, Bay Area poised to grow high-tech manufacturing
(San Francisco Business Times)
Header image by Jitze Couperus. San Francisco Bay Bridge. Used under Creative Commons 2.0 Generic.