Economic Impact of Howard Terminal Developments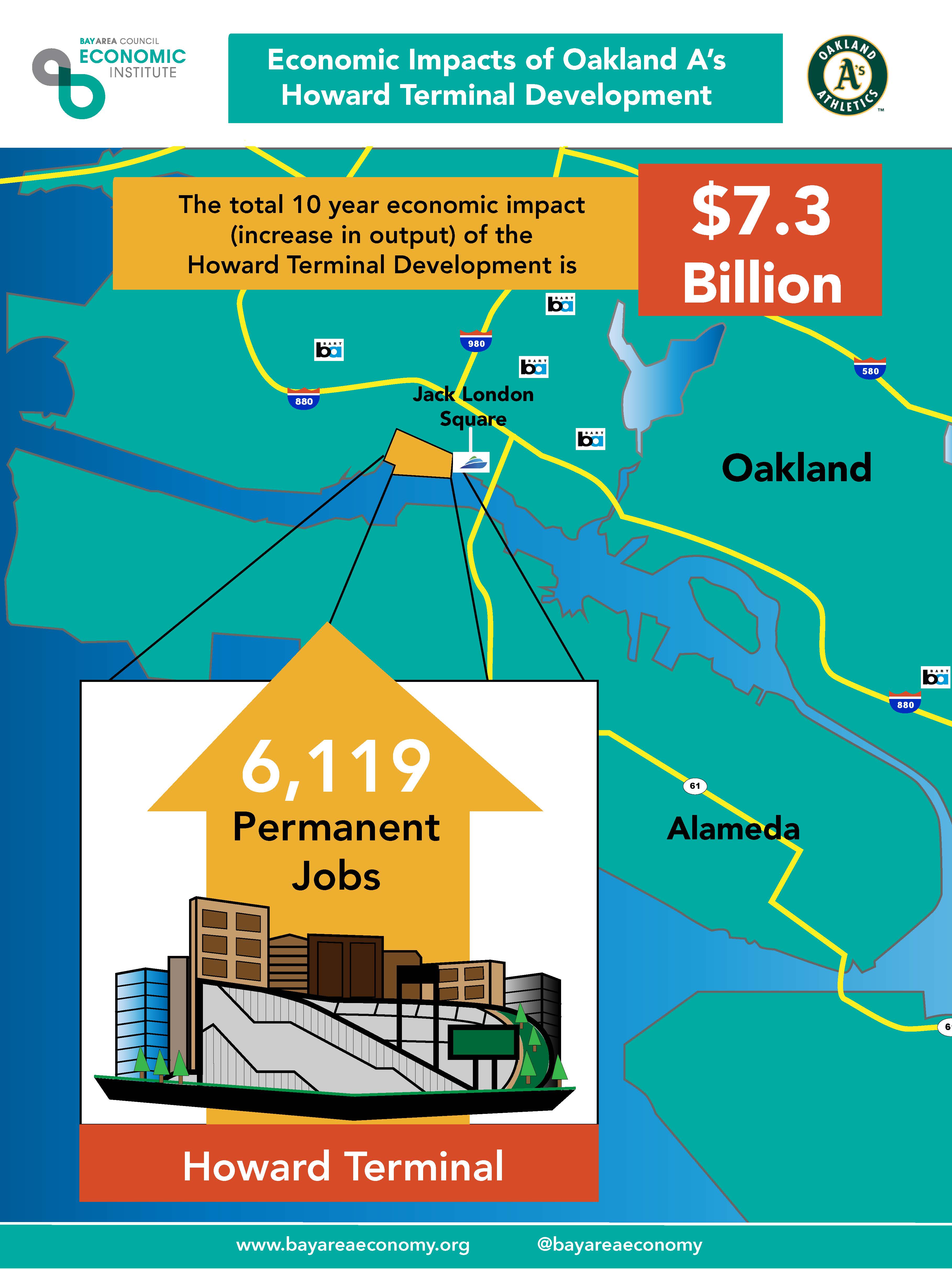 Click the infographic above to read the full methodology.
The Oakland A's planned new stadium at Howard Terminal adjacent to Jack London Square can be a transformational investment for the City of Oakland. Our own analysis, conducted in June of 2017, found that a new downtown stadium alone could provide $3 billion of economic benefit to the city over 10 years in the form of new jobs and increased spending. In addition, we found that a proposed gondola system to carry passengers from Old Oakland to Jack London Square would generate $685 million more in economic benefit for the city over 10 years.
Both the Howard Terminal site and the former Coliseum site have substantial room for development, are located within the region's core, and have good access to highways and public transportation. At full build-out capacity, the A's estimate that 6.6 million square feet will have been added, with 5.4 million square feet surrounding the ballpark at Howard Terminal. The developments as proposed would be one of the largest projects ever completed in the East Bay, and certainly one of the largest developments currently planned in the entire Bay Area.
To calculate economic impacts, we use industry-specific multiples provided by the U.S. Bureau of Economic Analysis. Using the Regional Input-Output Modeling System (RIMS II), which tracks a dollar's movement through a regional economy, allows us to estimate the full economic impact of spending within a certain industry. These models also take into account "leakage," which happens when spending occurs outside of the region.
We take these multiples—which tells us that for every $1 in direct spending, an additional percentage is spent on housing, healthcare, food, retail, and other items within the City of Oakland. Using these multiples together with the previously determined employment densities yields a total yearly economic impact of $902 million in nominal terms and 6,119 total jobs.