← Return to the Economic Recovery Page
Explore the data and methodology here.
We scored regions on 15 different datapoints across 5 different metrics: Jobs, People, Investment, Economic Activity, and Costs. We use Metropolitan Statistical Areas (MSAs) as defined by the U.S. Office of Management and Budget (OMB). The San Francisco-Oakland-Berkeley MSA includes San Francisco, Alameda, Marin, Contra Costa, and San Mateo counties. The San Jose-Sunnyvale-Santa Clara MSA includes Santa Clara and San Benito counties.
The Bay Area, which is referenced in other parts of our study, refers the the 9-county region (San Francisco, Alameda, Marin, Contra Costa, San Mateo, Santa Clara, Solano, and Sonoma counties).
The 9-county Bay Area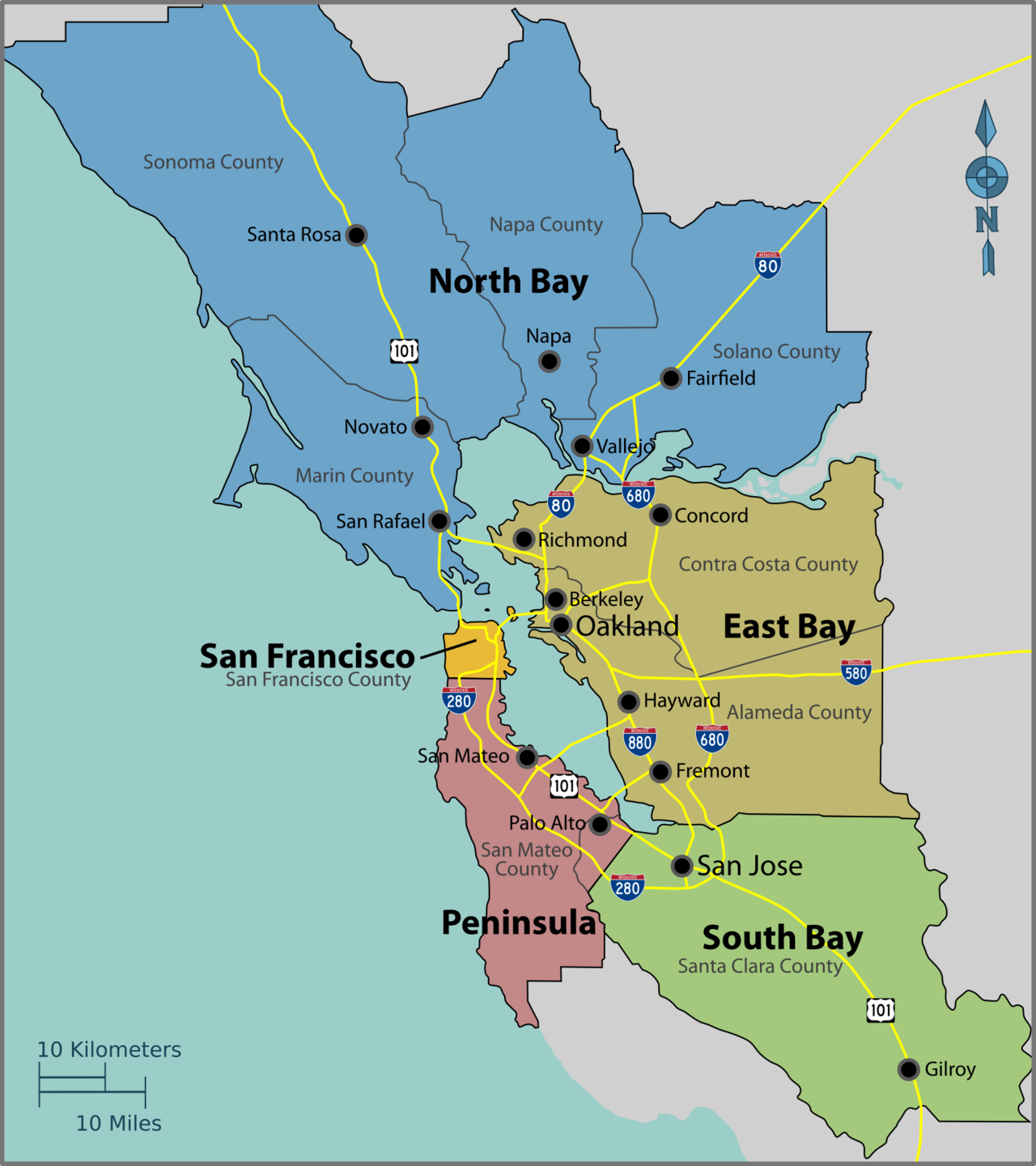 Each region was scored on 15 different metrics across 5 different categories. Percentile ranks were calculated for each metric (wherein 0 is the lowest rank, 100 is the highest), and then averaged across each category. Not all metrics were weighted equally, see the table below for a list of sources and weights.
Austin, Texas ranked first across the 25 regions in our study, scoring an average of 86 (out of 100) across the 15 metrics we evaluated. Within these metrics, it ranked first (100/100) on 6 metrics: job growth, "knowledge worker" growth, population growth, labor force growth, net absorption, and new housing units per capita. It also scored high (second only to Denver) on change in sales tax revenue – experiencing an increase of $33 million (or 13%) from 2019 to 2021. These figures speak to the dramatic resilience and growth Austin, and Texas as a whole, experienced  during the pandemic, while coastal cities like San Francisco and New York continue to suffer losses.
Why did we pick the metro areas in our analysis?
To create a list of "peer" regions to the San Francisco metropolitan area, we gathered a list of the 25 largest regional economies, based on the latest GDP numbers available at the time:
Explore charts of every metric that went into the index:
Jobs:
People:
Investment:
Economic Activity:
Affordability: