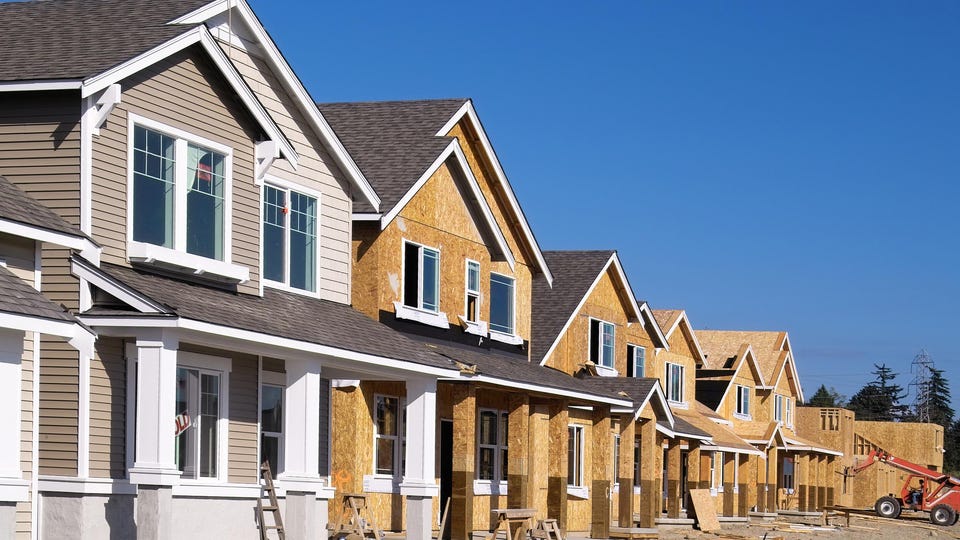 Bay Watch: A Weekly Look into the Bay Area Economy
October 26, 2023
Since the start of 2022, cities in California have permitted far fewer units of housing than peer cities.
From January 2022 to September 2023, San Francisco permitted only 296 units of housing per 100,000 people (or 2,391 units total), one of the lowest per capita housing production rates in the country, and the lowest of any major peer city. Permitting data come from the U.S. Census Bureau's building permit survey, a dataset updated monthly on new residential housing permits. San Francisco isn't the only city underproducing housing — other cities in the region and elsewhere in California are also lagging behind. Meanwhile, rapidly growing cities like Austin, Nashville, and Denver have permitted 5-10x as much housing as San Francisco on a per capita basis.
While many cite San Francisco's size (49 square miles) and location on a peninsula as reasons for the city's lack of new housing construction, many housing advocates point to Paris, France — a city smaller than San Francisco (40 square miles), but with high housing density and a population nearly 3 times the size. When opponents cite topography as a constraint, many advocates point to Hong Kong. Even if the goal is not to grow as large as Paris or as dense as Hong Kong, existing housing policies impede the city and region from building new housing, which in turn increases already high housing costs and displaces largely low-income earners who can't afford to stay.
In fact, the city makes it more difficult to create more housing than any other city in the state, according to a new report released yesterday by the California Department of Housing and Community Development. The report calls on reforms to the city's housing approval process, stating that "San Francisco has the longest timeline in the state for advancing a housing project from submittal to construction, taking an average of 605 days to issue a building permit to an already entitled housing project." The report also found that at least 18 city policies and practices are out of compliance with state law.
What are the implications of underproducing housing?
In a supposedly progressive state, outcomes have been remarkably regressive. Our region has one of the worst affordability crises in the country, creating conditions that have pushed lower income households to locations further from job centers or out of the region or state entirely. The median home sales price for single family homes in the San Francisco metro area (which includes Alameda, Contra Costa, Marin, San Francisco and San Mateo counties) is over $1.3 million, significantly higher than peer regions, including high cost areas like New York (whose metro area includes all of NYC, and parts of New Jersey and parts of upstate New York).
So, what's the solution?
There are three key ways our state, and cities in our region can reform to alleviate our housing crisis:
• Reform fees and exactions: During the process of updating its Housing Element, a state-mandated affordable housing plan, SF was asked to estimate the total cost of fees and other exactions on a typical housing project in San Francisco, and even it could not produce this number. According to members of the Bay Area Council, these fees and exactions can add more than $200,000 per home. SF can and should reduce these costs.
• Reform the review process for housing: San Francisco has chosen an extensive series of policies that result in the longest timelines to review housing, adding hundreds of thousands of dollars per home to the approval process. SB 35 (Wiener), a state law that forces faster review for certain projects, reduced SF's approval timeline from nearly 5 years to about 3 months, according to the State of California. San Francisco could and should choose to simply apply these review standards to every housing project.
• Reform zoning: even in progressive San Francisco, residential segregation remains a large issue. This is enforced through zoning codes, which determine what type of housing is allowed where and typically focus development away from wealthy, disproportionately whiter neighborhoods, concentrating development in less powerful, poorer communities. Reforming zoning to allow more apartments in wealthy, racially concentrated areas of affluence would have two key advantages: the higher rents developers can charge for homes in these areas would help them offset the cost of high construction loan interest rates, and it would decrease spatial segregation by locating affordable housing next to the region's best amenities and public schools.