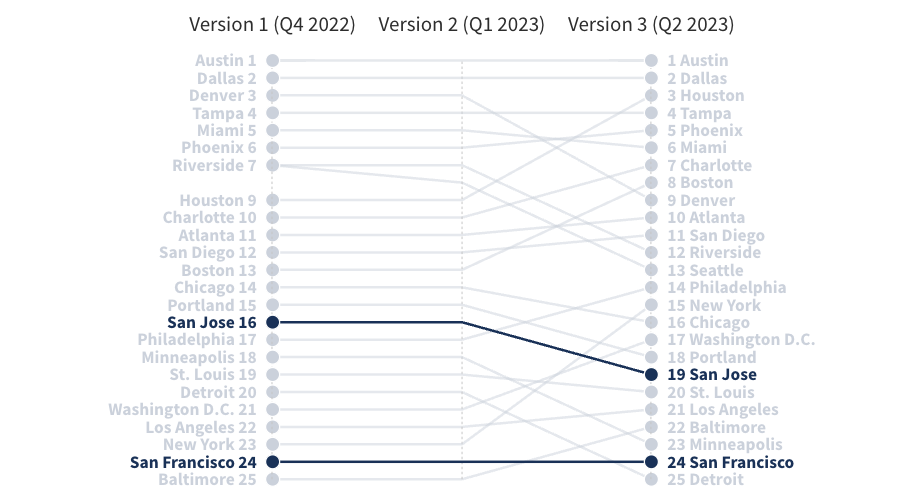 Bay Watch: A Weekly Look into the Bay Area Economy
August 4th, 2023
Tracking economic recovery: San Francisco ranks 24th out of 25 major regions for the 3rd quarter in a row, fastest growing regions all in Texas
For the third quarter in a row, the San Francisco metro area remains second to last in a list of 25 large metropolitan areas and their post-pandemic economic recovery. The Bay Area Council Economic Institute, in partnership with CBRE's Tech Insights Center, updated their Regional Economic Recovery Index with data from the second quarter of the year, tracking recovery across 15 different metrics.
The three highest performers? Austin, Dallas, and Houston – hot, up-and-coming Texas regions that have seen staggering growth over the last three years. While the Bay Area has grown in a number of ways – reaching pre-pandemic employment levels, bringing in disproportionately high sums of VC dollars, and growing real wages faster than peer metros, its overall growth remains sluggish.
One major culprit? Remote work
The pandemic and resulting work-from-home policies — more prominent in the region's vast tech sector — deeply affected the way many companies approached hiring and the cost of doing business. Within the region, San Francisco saw the largest increase in office vacancies among major markets, going from a 4% vacancy rate in Q4 2019 to 32% by Q2 2023. This 28 percentage point increase is nearly double as high as the next highest increase, a 10 percentage point increase in the Tri-Valley. Net absorption in the region is also remains negative —meaning that there is more space is coming onto to the market (via new construction, subleasing and lease expirations) than new leasing activity.
How do we score regions?
Regions are scored on 15 different metrics across 5 different categories:  jobs, people, investment, economic activity, and affordability. Scores are out of 100. A score of 100 indicates that a region ranked first on every metric, while a score of 0 indicates that a region ranked last on every metric.
For example, Austin scored 100 in the People category, meaning it had the highest rate of both population growth and labor force growth, the two metrics in that category. San Jose, San Francisco, and Los Angeles all scored the lowest because they experienced the greatest population and labor force losses given their pre-pandemic levels.
The index was first developed in January 2023, with most data reflecting Q4 2022. The index was then updated in May 2023, with most data reflecting Q1 2023. The newest update reflects Q1 2023. Changes in regional ranks and scores are shown below.
Economic recovery scores as of July 2023: