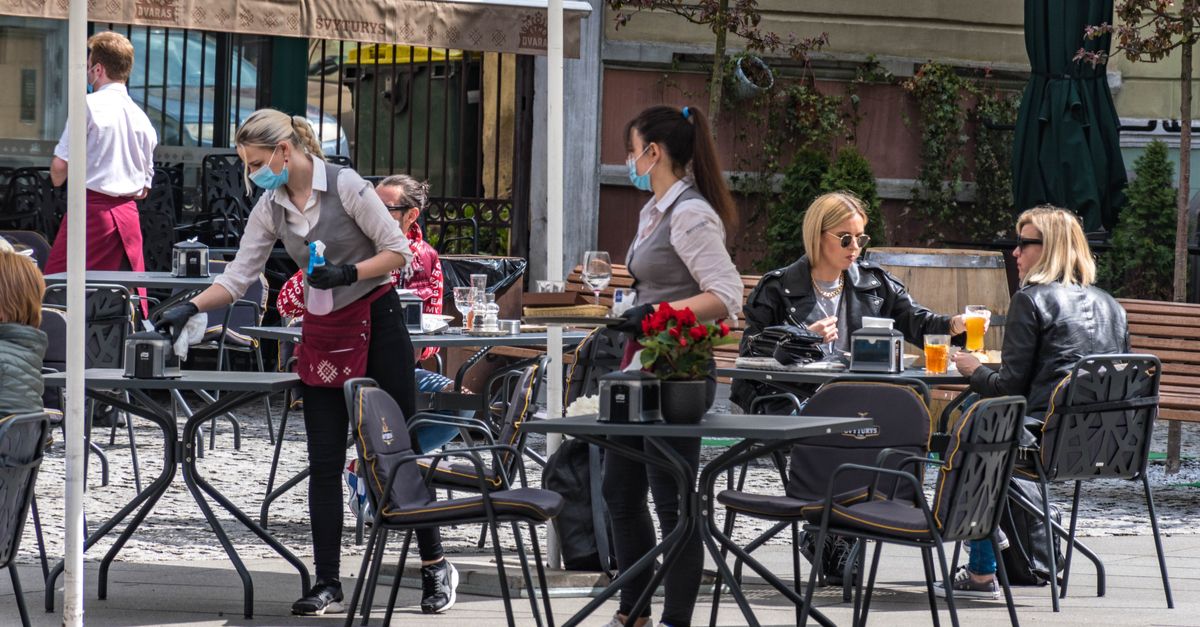 Bay Watch: A Weekly Look into the Bay Area Economy
August 9, 2022
Despite recent job growth across key industry sectors, the Bay Area continues to struggle to recover the jobs it lost during the COVID-19 pandemic. San Francisco is still down over 32,000 jobs, exhibiting one of the slowest economic recoveries in the nation. Meanwhile, sunbelt cities like Austin, Dallas, Nashville, Atlanta, Houston, and Phoenix are all showing signs of growth beyond pre-pandemic levels. So why is San Francisco so behind?
San Francisco still down over 32,000 jobs, while mid-sized sunbelt cities lead the nation's jobs recovery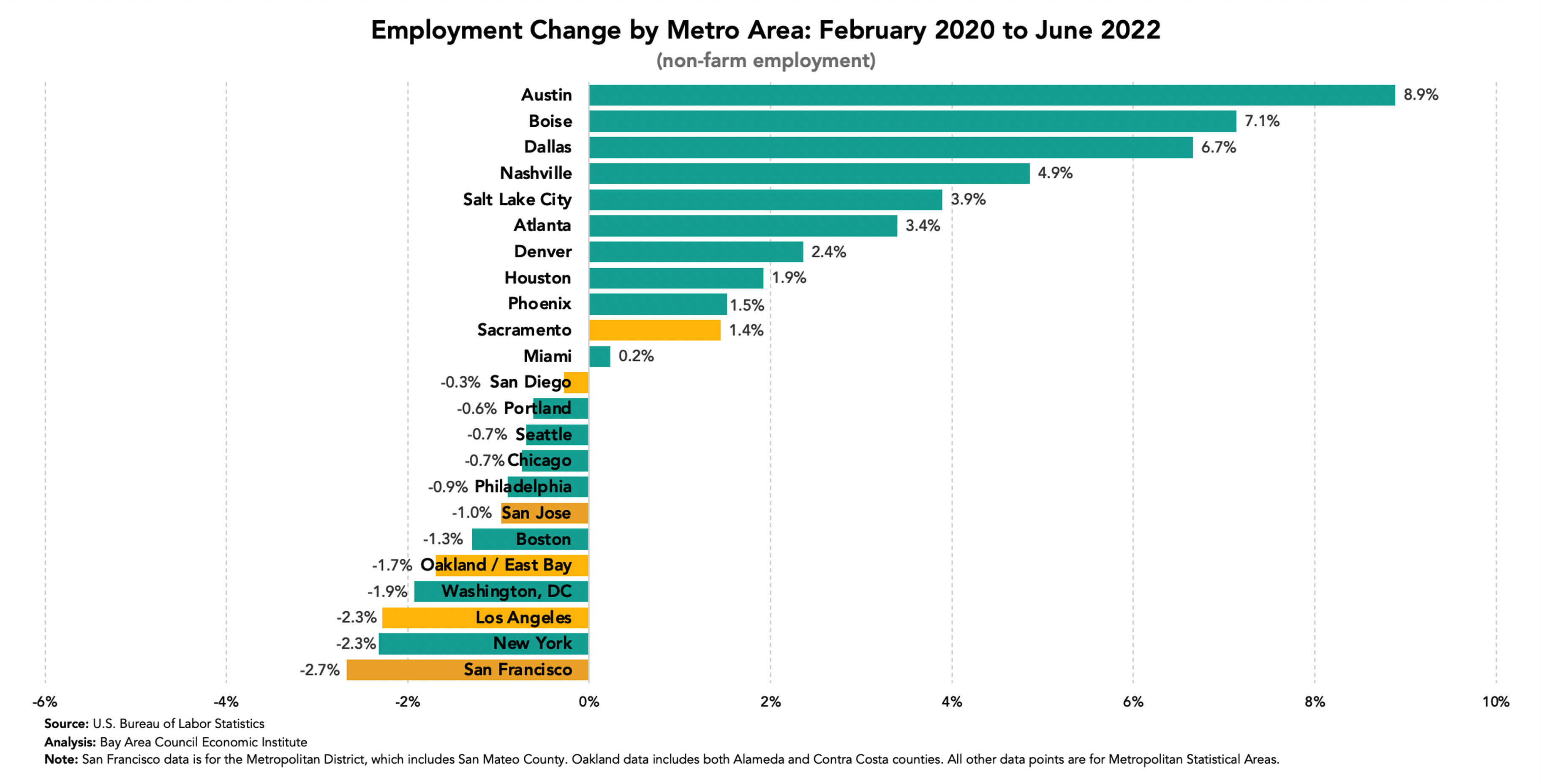 A struggling service sector
San Francisco, like many large urban metro areas, has high share of service economy jobs and a high share of office jobs. In many instances, the service economy relies on that office economy, and to some extent the tourism economy, for its revenues. With lower domestic and international tourism, and far fewer in person days in offices that line the city's financial district, San Francisco's leisure and hospitality sector (restaurants, bars, hotels, arts) is still down nearly 22%, accounting for 98% of the city's jobs deficit.
Unlike other major cities also struggling to recover their service sector jobs, San Francisco's downtown lacks the economic diversity necessary for a resilient urban economy. With an abundance of jobs in the professional services sector (which includes tech and other office jobs), San Francisco has one of the highest shares of remote-eligible occupations. As many of these companies went remote during the height of the pandemic, businesses in the leisure and hospitality sector had to shutter, or return with limited staff and hours. Now, with some of the lowest office occupancy rates, and labor shortage due to record low unemployment rates, San Francisco's downtown businesses are struggling to stay afloat.
Narrowing in on service sector job recovery, San Francisco significantly behind peer metro areas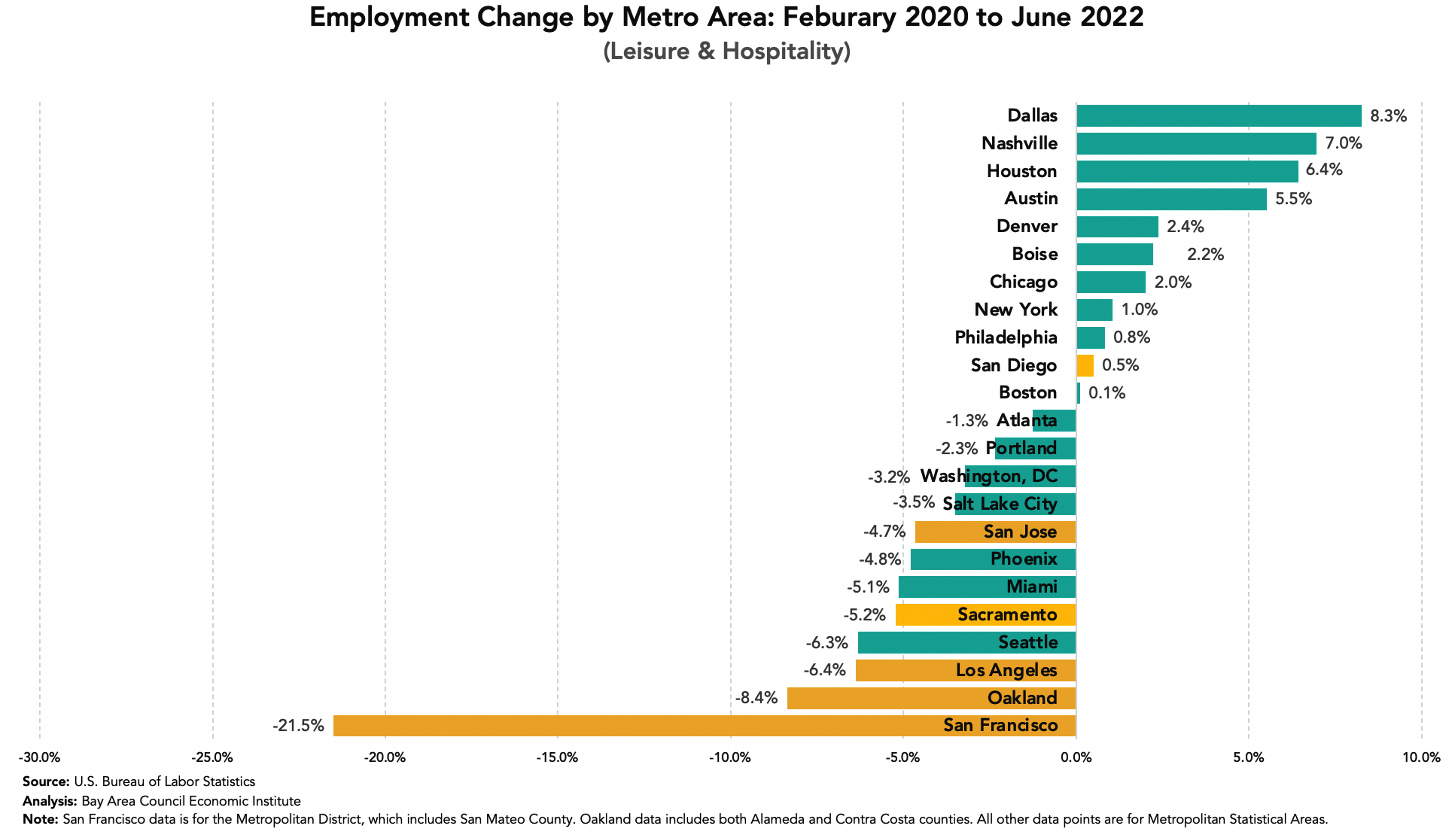 Key sectors return, and one of the lowest unemployment rates in the nation
If not for the deficit of leisure and hospitality jobs, San Francisco would be in the middle of the pack in terms of the economic recovery, and, almost completely recovered. Recent gains in key sectors have moved the city ahead of many of its largest peers, including New York, Los Angeles, and Boston. These gains have also given San Francisco one of the lowest unemployment rates in the nation – the city's unemployment rate for June was just 2.1 percent, up from a revised 1.8 percent in May, one of the lowest unemployment rates ever recorded in the region. Next week's Bay Watch will examine the nuanced reasons for the city's extraordinarily low unemployment rate, but for now, it's still an impressive milestone.
If not for the deficit of leisure and hospitality jobs, San Francisco would be in the middle of the pack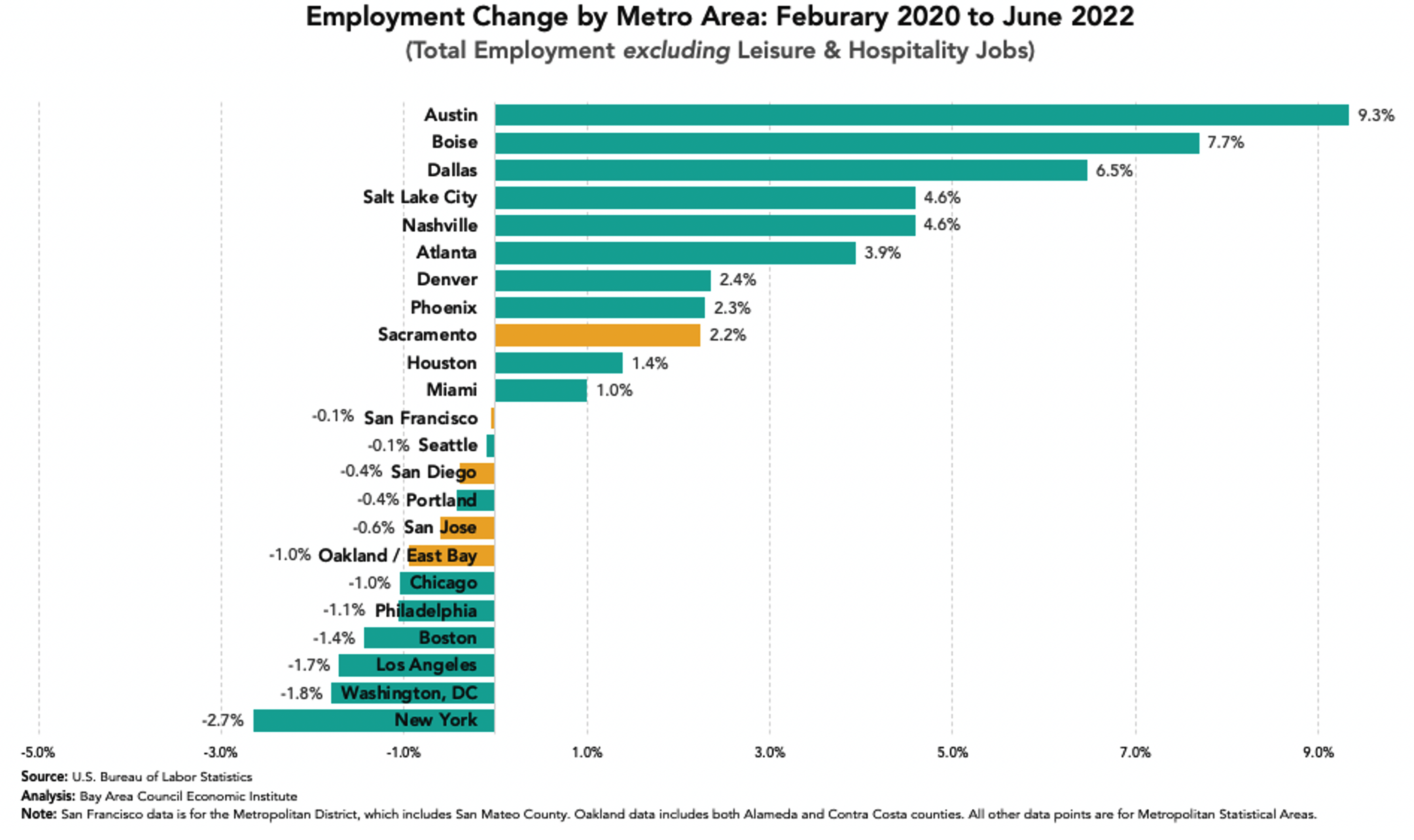 San Francisco cannot rely on bringing back the same office workers that once commuted to its central business district to fortify its service sector: over 65% of employers in the region say that in 6 months, they expect their workforce to come into the workplace 3 days or less (19% ultimately expecting their workforce to be fully remote). Instead, to revitalize downtown, the city must adopt creative strategies such as new residential construction, reformed zoning codes, reinvigorated nightlife and events, among other innovative solutions.