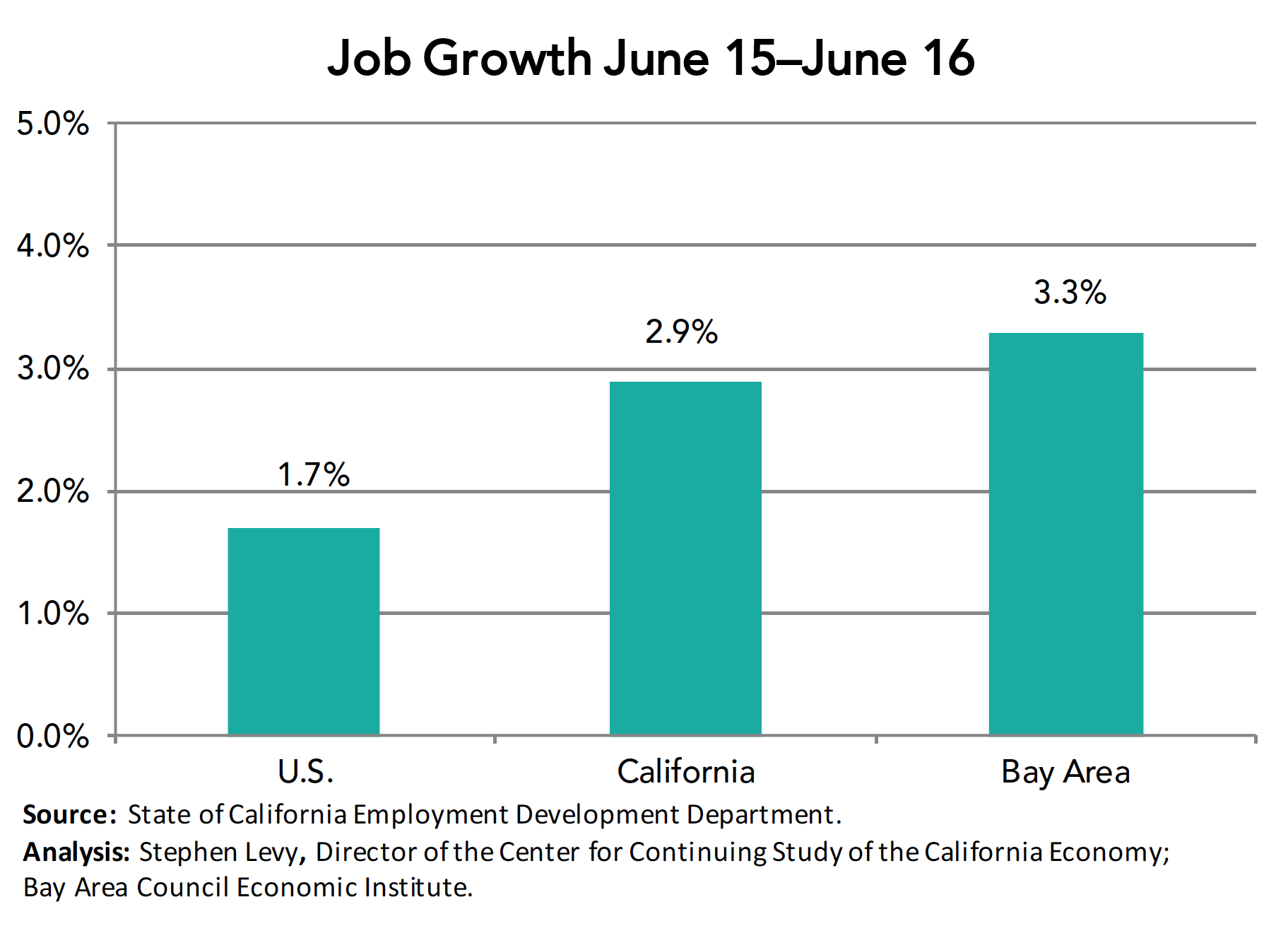 The California Employment Development Department (EDD) has released job estimates for June 2016. Here are the highlights:
Bay Area Job Growth Rebounds From Slow May Job Growth
The region added 121,500 jobs between June 2015 and 2016 for a gain of 3.3% compared to 1.7% for the nation and 2.9% for California. The pace of growth has slowed from the mid-summer 2015 highs although year over year gains remain robust. The state jobs report showed a gain of 40,300 jobs in June and a year over year gain of 461,100 jobs or 18.8% of the national job gain.
The job gains continue to reduce unemployment rates while the labor force continues to add workers. However, unemployment rates jumped more than expected throughout the state in June, possibly as a result of seasonal factors that will reverse in July.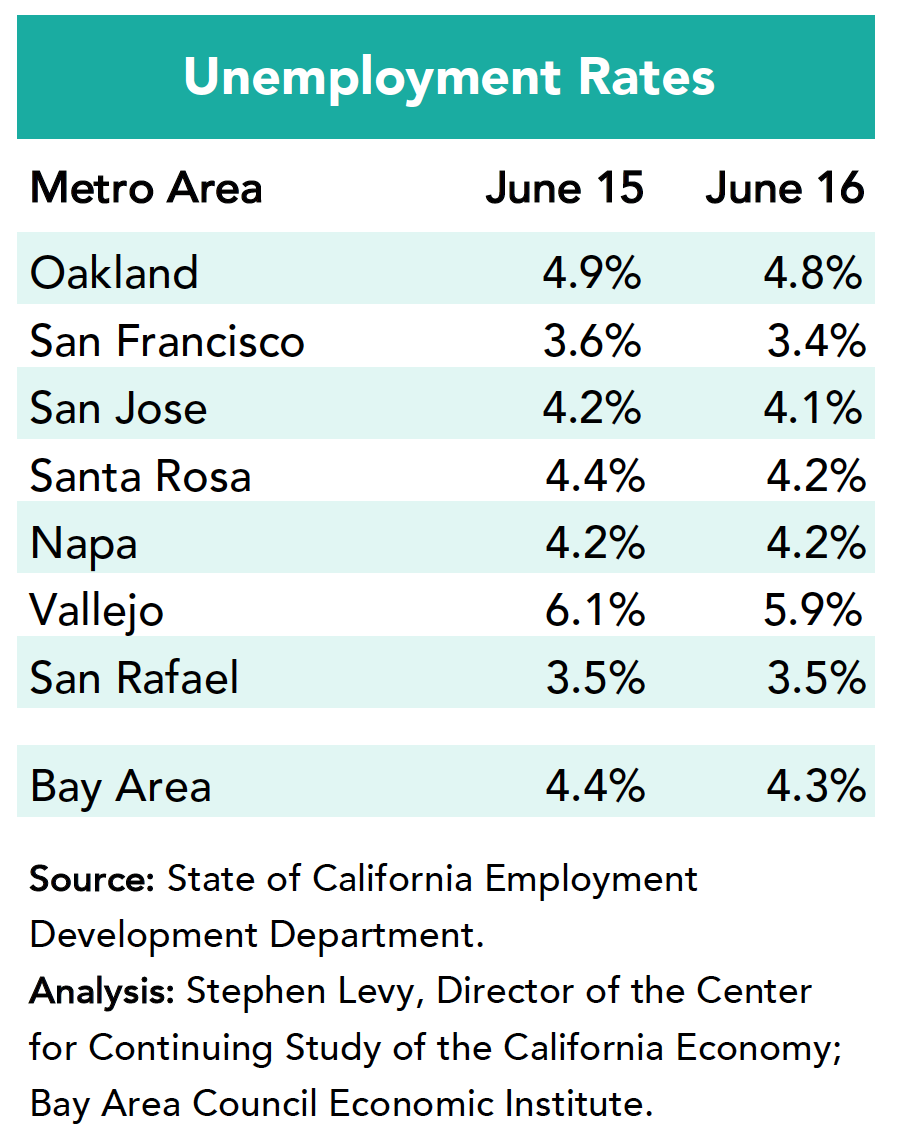 Year over year job growth has slowed slightly in the region though remaining above 3% in region and above the national average in all metro areas.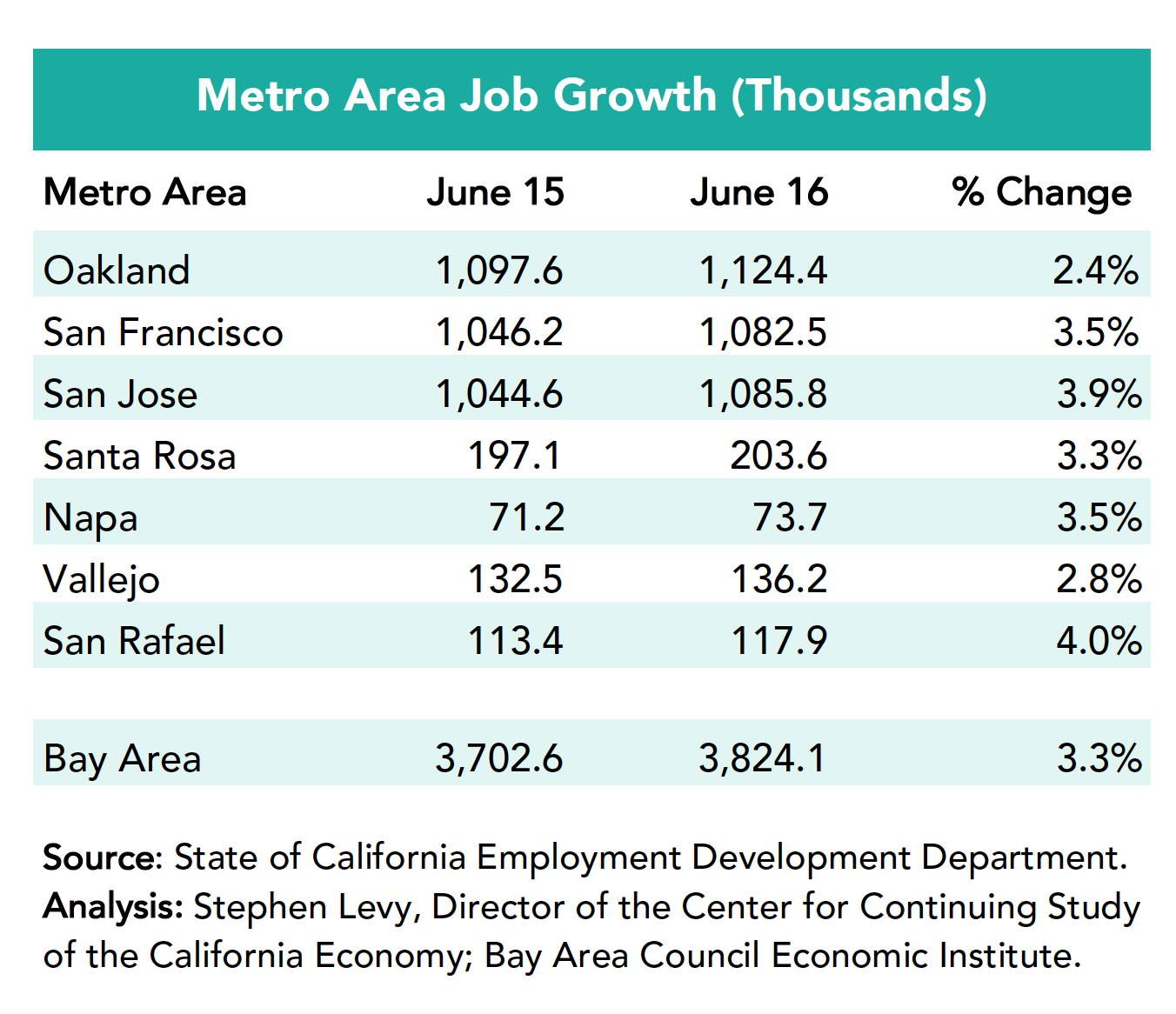 While the year over year job gains have declined slightly from mid-2015 peaks, they remain in very healthy territory with no signs of a significant loss of competitive advantage. Job growth rates in 2016 are likely to be the peak going forward as baby boomer retirements are slowing labor force growth.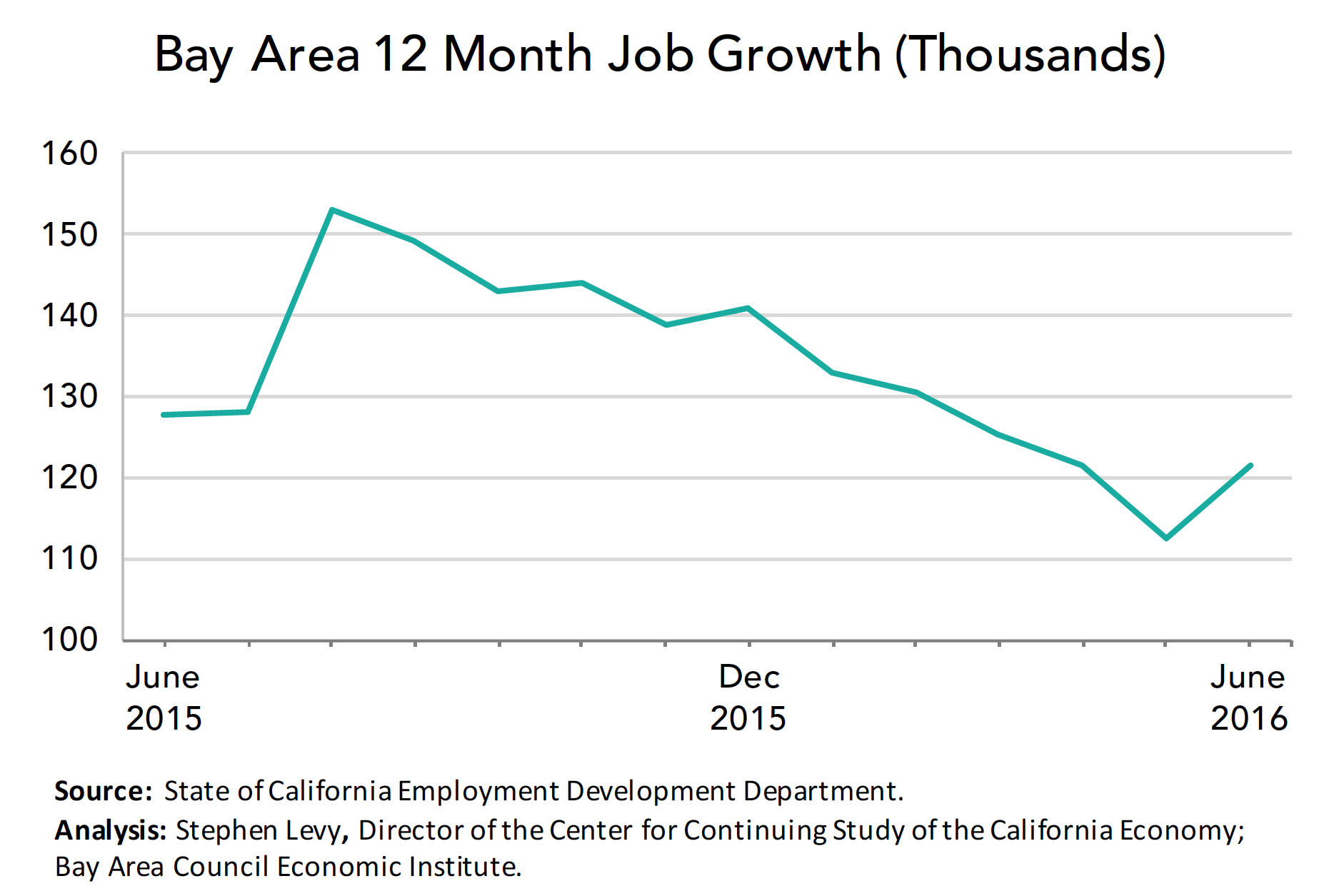 The California job growth trends put the state near of the top of the nation's most populous states, in part because job growth has accelerated in Southern California and parts of the Central Valley including San Joaquin County adjacent to the Bay Area and also in Fresno County.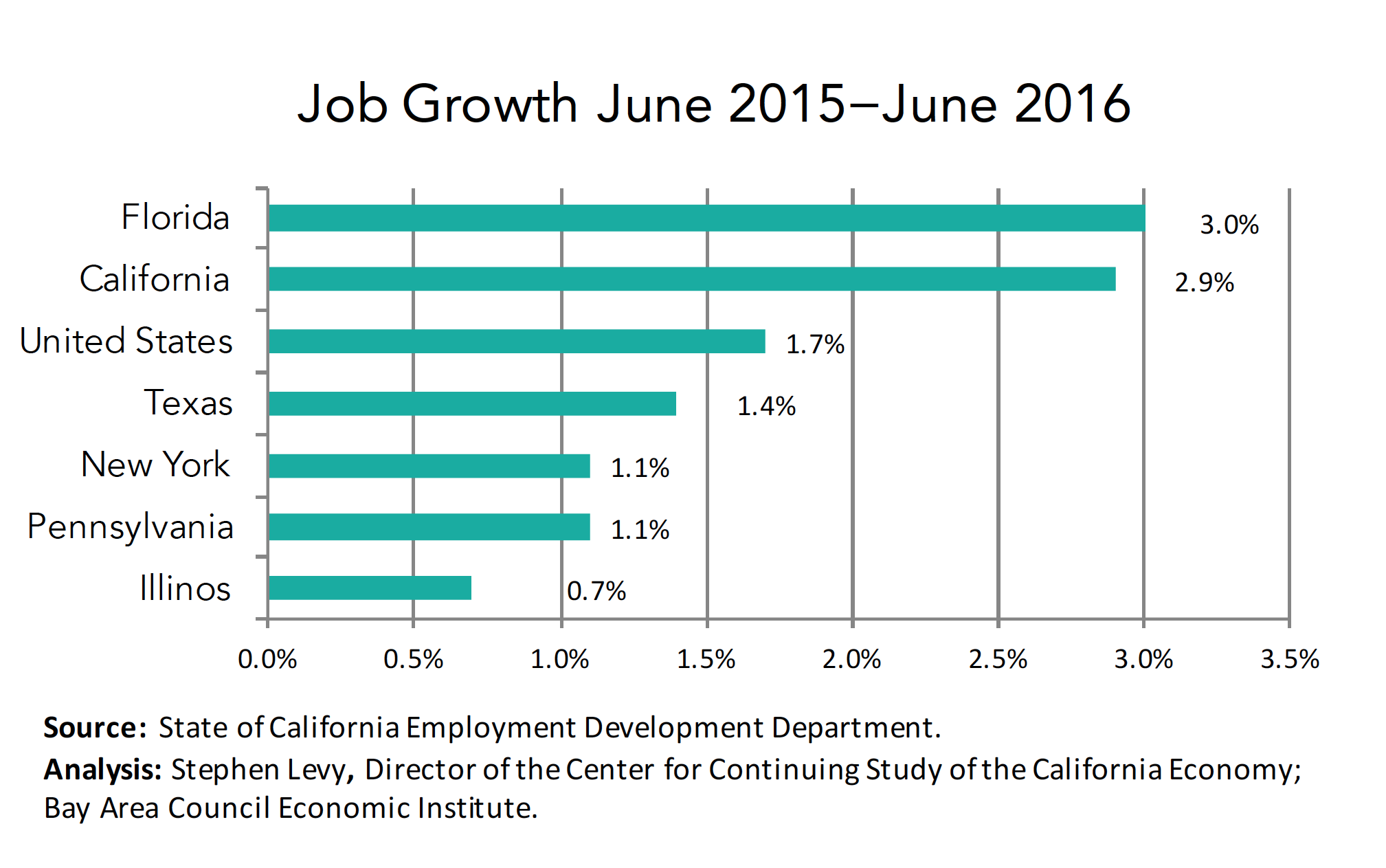 The continuing job growth now that unemployment rates have fallen will bring new residents to the region as will the growing need to replace retiring workers.
All of these trends underscore the importance of policies to increase housing and make sure that housing and transportation challenges do not undermine the region's still vibrant economic competitiveness.
Last week the Bay Area was the site of the first listening tour by the administration with regard to the details of the Governor's new by right housing proposal with San Francisco Mayor Ed Lee joining the panel. And in November voters throughout the region will weigh in on new transportation funding measures.
These economic updates are authored by Stephen Levy, Director of the Center for Continuing Study of the California Economy, and a member of the Bay Area Council Economic Institute board.