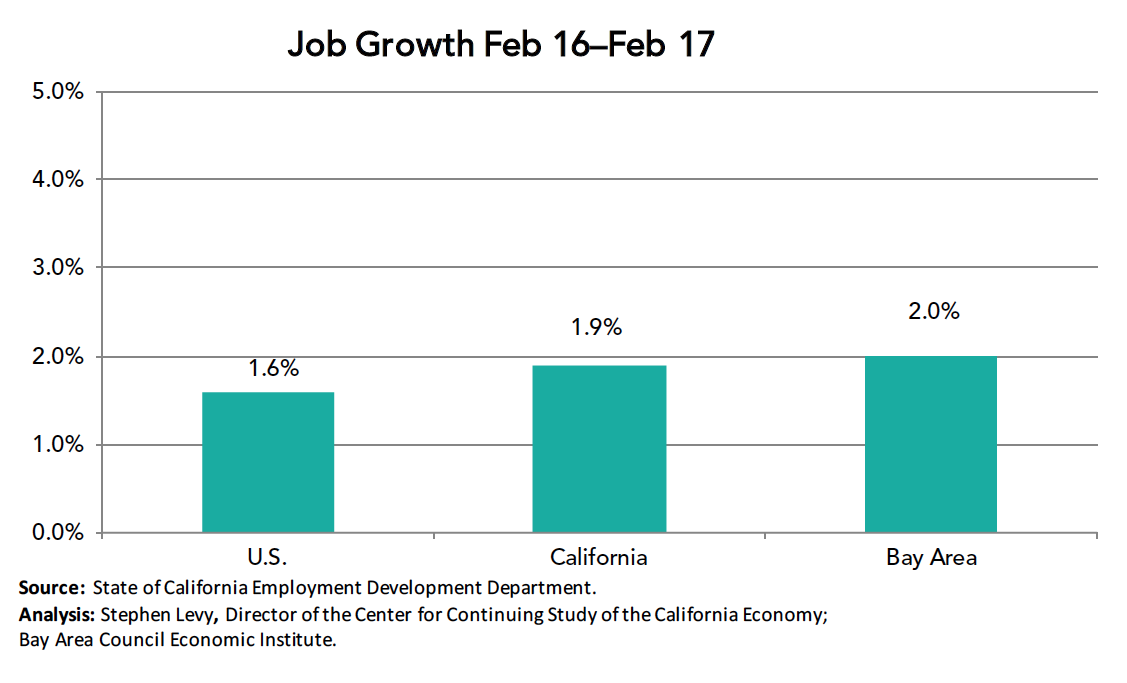 The California Employment Development Department (EDD) has released job and labor force estimates for February 2017 and revisions for 2015 and 2016. Here are the highlights.
Job growth slowed in the first two months of 2017 and now only slightly outpaces the state and nation while the region's unemployment rate remains below 4%.
The region added approximately 10,000 more jobs in 2016 than originally reported.
This week Amazon announced a 1,300 job tech oriented expansion in East Palo Alto to take advantage of the region's skilled workforce. This builds on the move by auto companies for similar reasons.
Year over Year Job Growth Strong but Slowing
The region added 74,700 jobs between February 2016 and 2017 for a gain of 2.0% compared to 1.6% for the nation and 1.9% for California. While the January and February job numbers may be revised upwards, the pace of job growth is likely to slow in 2017 and beyond as more baby boomers retire and the pool of unemployed workers shrinks.
Year over year job growth remains equal to or above the national average in all metro areas in the region though at a much slower pace than in the past two years.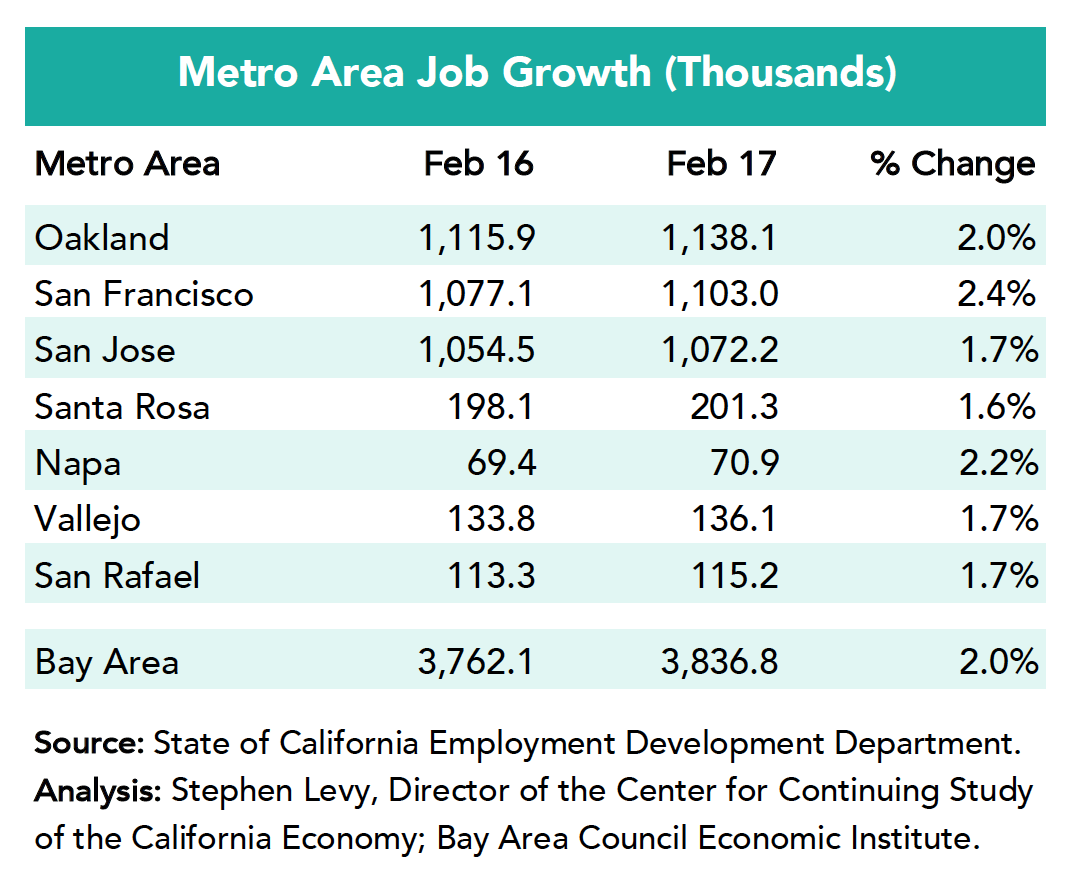 The job gains continue to push unemployment rates lower but labor force growth has slowed dramatically in recent months and is up only 0.3% over the past year.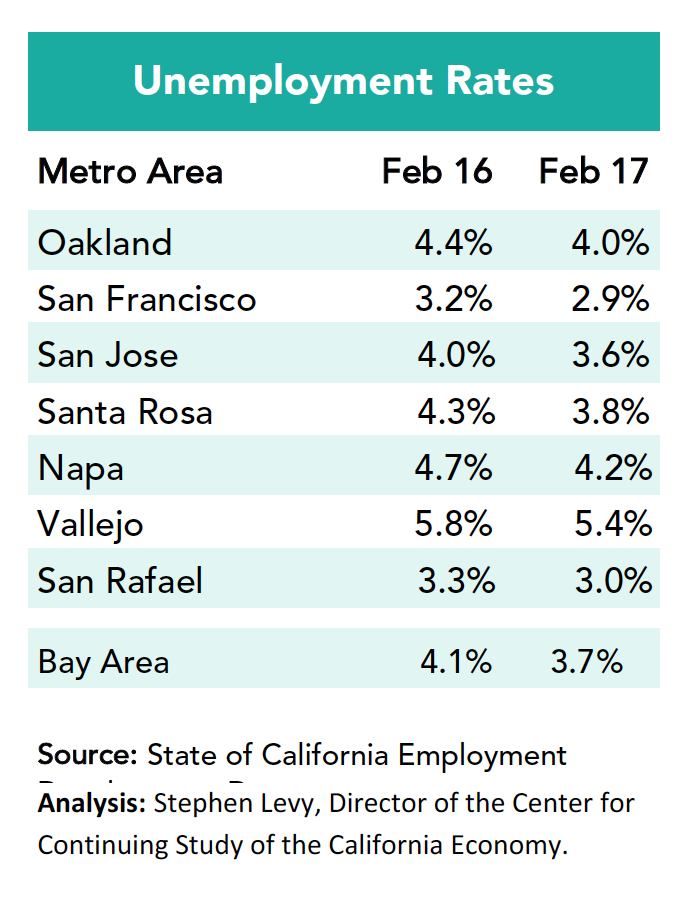 Each year in March EDD makes revisions to the previous year's job estimates. Overall the region gained jobs in the revision though the Oakland and SF metros gained while the San Jose metro had fewer jobs than previously reported.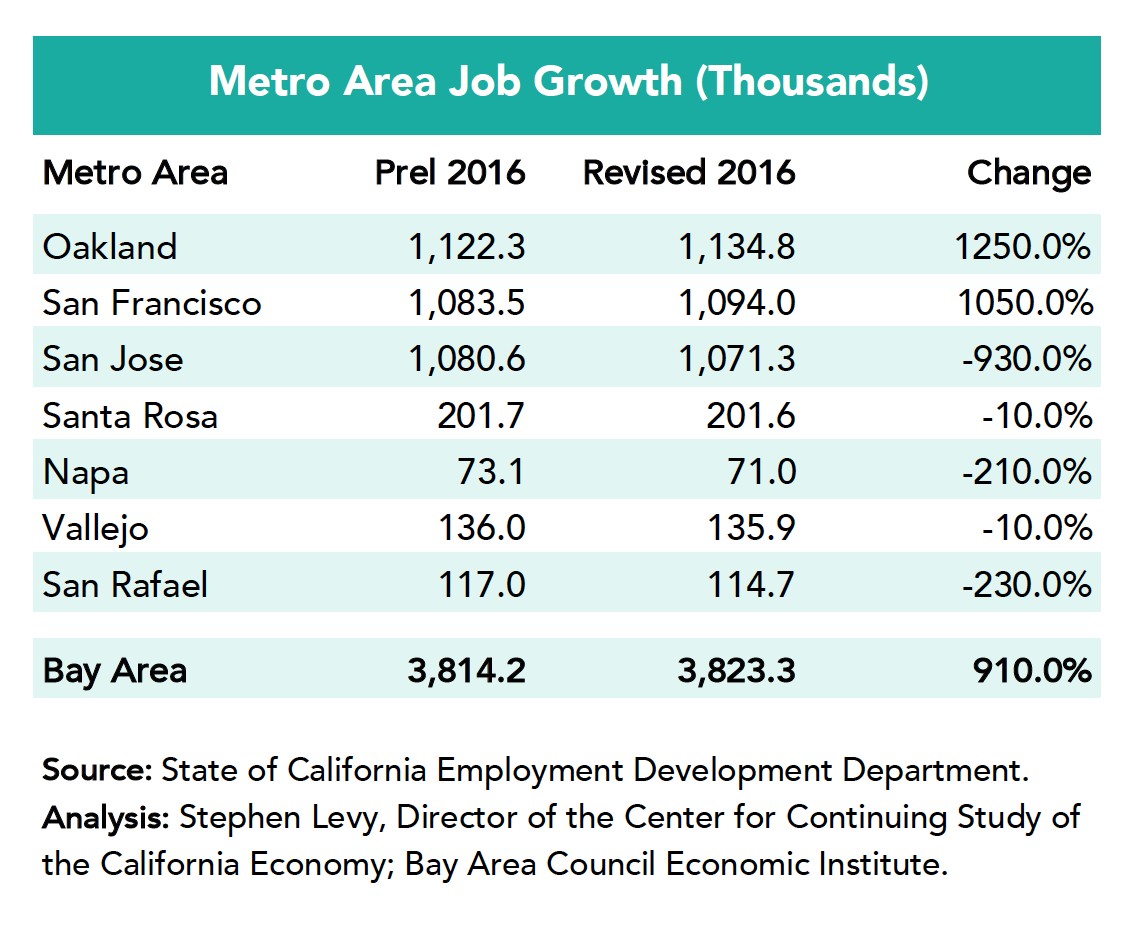 Year over year job gains declined sharply in the first two months of 2017 from mid-2016 levels. It is too soon to know if the severity of the recent declines will continue.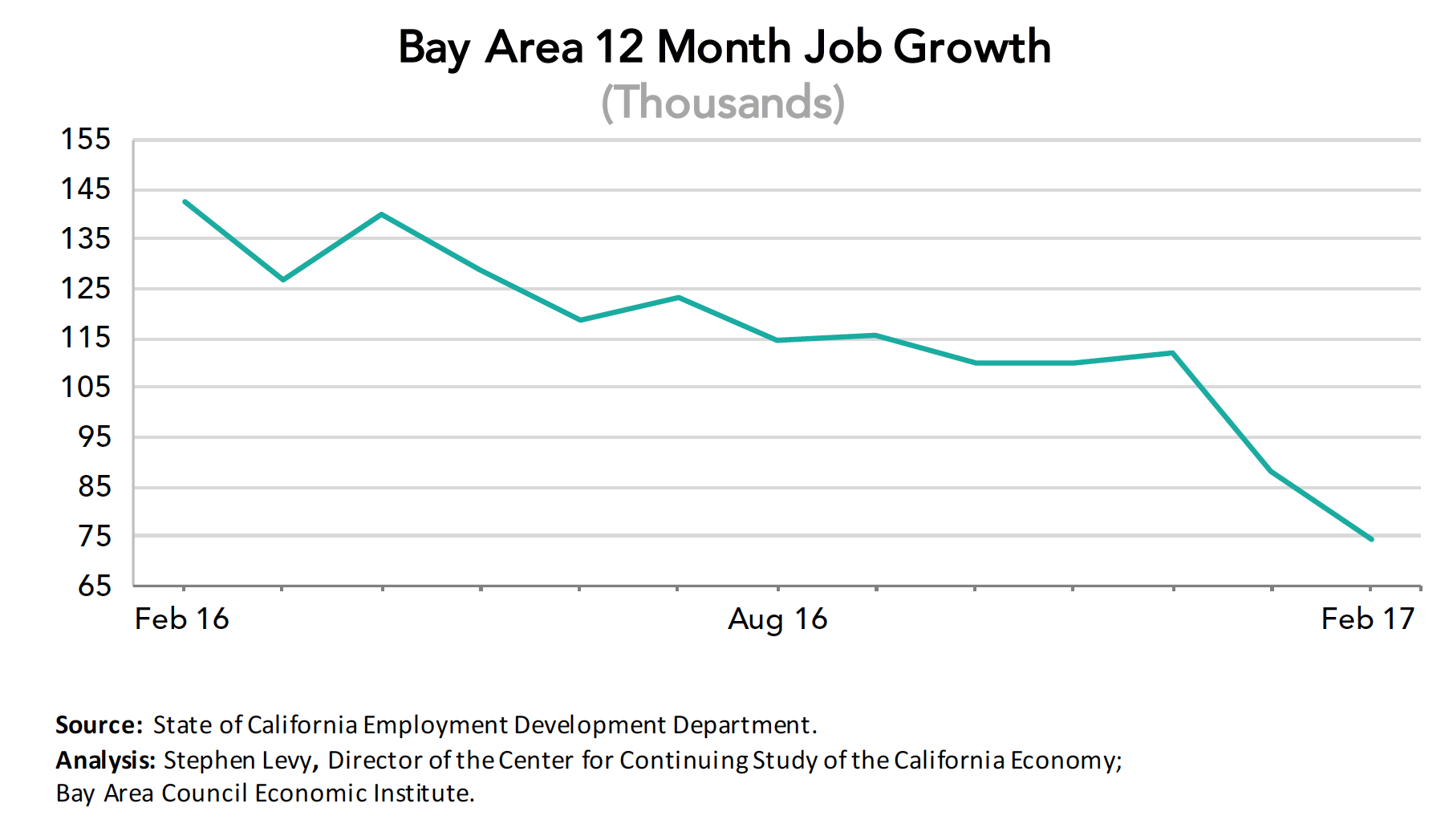 The continuing job growth now that unemployment rates have fallen will bring new residents to the region as will the growing need to replace retiring workers.
All of these trends underscore the importance of policies to increase housing and make sure that housing and transportation challenges do not undermine the region's still vibrant economic competitiveness. Bay Area residents approved many funding measures for transportation and several local measures give hope that the housing supply and affordability challenges are being increasingly recognized by residents. The Bay Area Council has identified policies that can reduce costs and other barriers to expanding housing choices. http://www.bayareacouncil.org/economy/by-the-numbers-solving-the-housing-affordability-crisis/.
While more communities such as San Francisco, Redwood City and Mountain View are now approving housing developments, the region has a long way to go and regional stakeholders will also want to watch the many housing bills now in the state legislature.
These economic updates are authored by Stephen Levy, Director of the Center for Continuing Study of the California Economy, and a member of the Bay Area Council Economic Institute board.