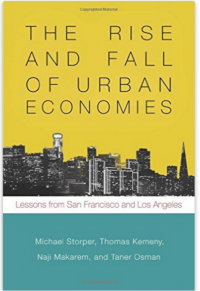 Facebook has now become the fourth most valuable company in the world at $330 billion joining two Bay Area neighbors—Apple and Google's parent company Alphabet—along with Microsoft at the peak of the economic mountain. The path to the top for these companies and the regional economy generally had something to do with economic fundamentals but perhaps even more to do with the culture and connectedness of the region, argues Dr. Michael Storper, Professor in UCLA's Luskin School of Public Affairs.
Dr. Storper has quantified this connectedness in a rigorous way in his fantastic new book, The Rise and Fall of Urban Economies: Lessons from San Francisco and Los Angeles. In a talk to the Bay Area Council last week, he emphasized the importance of the connections among the leaders of industry both within and across sectors. He presented evidence that the Council itself was three times more networked to the leaders of the region than the most networked organization in southern California, the Los Angeles Chamber of Commerce. Even the runner-up regional organization, the Silicon Valley Leadership Group, was one third as networked as the Council but just as networked as the LA Chamber.
What is true in business is true in regional economies: culture trumps strategy. Holding onto this place at the top will be difficult and this economic dominance will not last forever. Preserving this success requires continuing to building connections across the region and building a region that has places for us all. The Institute, through its cross-sector leadership board and its work with many partners does its small part create these networks. We're glad to be in a region in which connection is not only part of our culture, but a vital part of our economic success.