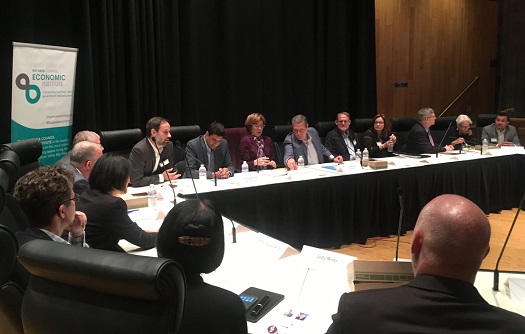 Much of the political rhetoric of the 2016 Presidential campaign focused on the winners and losers of the nation's economic transformation over the past several decades, painting global trade and rapid technological advancements as villains stealing blue collar jobs and decimating local economies in places like Ohio, Michigan and Pennsylvania. The story, however, is far more complex and one that has huge implications for our region. The Bay Area Council and the Bay Area Council Economic Institute are delving into those complexities, and this week hosted a fascinating discussion with Ohio Congressman Tim Ryan and Silicon Valley Congressman Ro Khanna on the many and strong connections between the Bay Area and America's heartland and the vast opportunity for deepening those connections to address concerns about economic displacement.
The conversation, which was moderated by former Economic Institute Chair and eminent UC Berkeley economist Laura D'Andrea Tyson, explored how the Bay Area's innovation leadership can be leveraged to boost up places that are feeling left behind, the ways in which that can happen and the widespread economic benefits that it can produce. Institute president, Micah Weinberg initiated the conversation by telling the story of Alabama's half a billion dollar investment that led to the auto manufacturing industry boom during a time in which many part suppliers in the region did not meet OSHA guidelines and standards. The industry grew by about 26,000 jobs, many of which were low-paying and dangerous. By contrast, Bay Area companies on brought 27,000 jobs with higher average wages to the region without the financial incentive Alabama-based companies received.
The Economic Institute also previewed an online tool that offers a detailed analysis of the existing jobs and economic connections between Bay Area companies and individual states and congressional districts. The tool will be formally launched in the coming weeks.
Read more about the conversation from Wired's Nitasha Tiku.